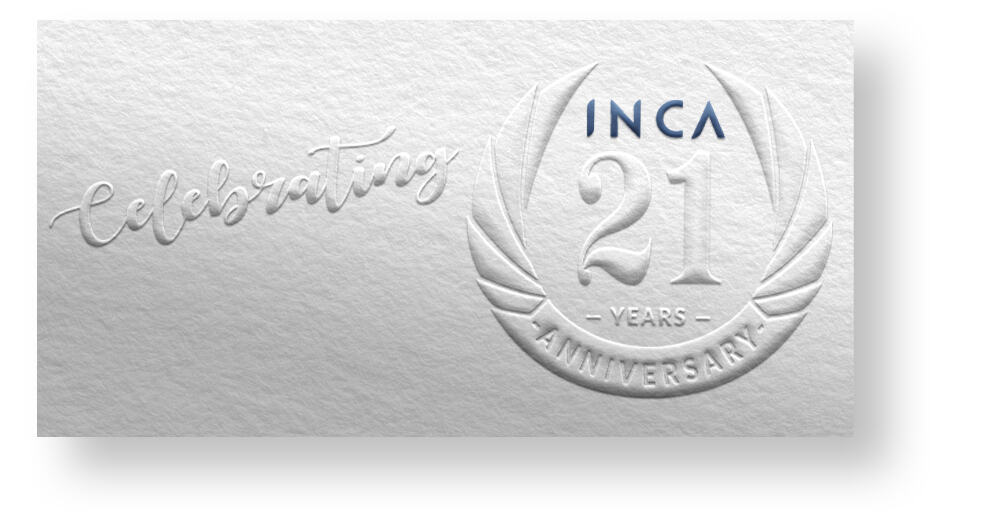 You don't get a second chance to make a first impression!
At INCA Design we utilise our innovative creativity and can cater for all your corporate image, advertising, design and marketing requirements.
We specialise in creating dynamic corporate branding as well as fresh and improved designs evolving existing, and already well established, corporate identities back into the forefront of the current business arena.
Our strategy for creative excellence is quite clear, which in turn makes the design process quite accessible. We believe that our analytical research, a calculated approach, with carefully conceived planning and accurate direction to your business' key target market, is essential for maximum success. We aim for your business to reflect an image of distinction and this, in turn, promotes your business, stimulating it, so it may flourish and prosper amongst even your most competitive rivals.
What sets us apart from the rest? We think that you matter and are passionate about what we can achieve for you. INCA Design have always been proud to build strong, long-term, working relationships with all our clients and enjoy every specific challenge. We provide a professional, friendly, trusted and personalised service with inspirational solutions tailored to your individual requirements.
–  Corporate Identity & Branding
–  Website Design & Development
–  Digital Media & e-Communications
–  Marketing & Promotional Material
–  Exhibitions & Display Stands
–  Stationery, Literature & Brochures
–  Packaging & Presentation Packs
–  Retail Design & Shop Fitting
–  Point of Sale Devices
–  Signage, Internal, External & Vehicles
–  Corporate Clothing including Health & Safety Garments
–  National & Local Advertising
–  Public Relations & Events
–  Digital Photography
–  Litho & Digital Printing
–  Eco-aware Approach
Corporate identities, logo designs and product branding design services are our speciality. For distinction amongst your business rivals, your corporate identity needs to exude quality & individuality, especially in the current economy where client poaching is rife. Update a tired image or evolve a previously successful brand into your current marketplace. Targeting the right people at the right time in the right way will transform your profits.
Comprehending and exploiting the rapidly advancing technology of the World Wide Web is essential for enterprises in the 21st Century.
Embracing digital technology, responsive web designs automatically adjust to any screen size dynamically cropping images on either portrait or landscape displays, for ultimate user friendly accessibility across multiple devices from web-enabled wristwatches, mobile phones to high-resolution tablets.
By harnessing INCA's website analysis and development consultancy, we can integrate the most relevant responsive width design, with optional Content Management Systems (CMS), programming either brochure, portfolio or eCommerce websites, intranets or any optimal combinations with search engine optimisation (SEO) for the most advantageous website to boost your online profile and easy visibility on all devices, ultimately to promote your business and increase your profits.
National and local advertising strategies are vital to your successful advertising campaign. Market research, media selection, advert design, media scheduling and proficient media liaison are the key to promoting your business in the most cost effective manner to the most appropriate audience. Further analysis ensures the ability to adjust your strategy in changing circumstances and therefore the focus of your advertising campaign remains accurate.
At INCA we appreciate that every company has different corporate literature and stationery requirements. Our expertise is tailoring marketing strategies appropriate to your current demands and to your desired business targets. Our creative genius then enables an innovative style of brochures, stationery, leaflets, folders, newsletters, flyers, annual reports, business cards and letterheads integrating a consistent corporate image and commercial information.
Quality control and accurate management of your printing requirements are also paramount to the public perception of your business.
Client & Supplier liaison is of prime importance to us providing you with a professional full marketing service keeping the design, print and delivery logistics cost effective.
INCA devise creative innovative exhibition and display designs – from simple graphics panels to total bespoke-built exhibition stands. We can provide modular display stands, pop up displays and promotional banners no matter what size or location of your chosen promotional events or conferences. Our team can project manage all your promotional requirements including exhibition planning, graphic design, display production, signage, logistics, audio visuals, lighting & electrics to promote your business for maximum impact.
When trading with merchandise, clever and attractive product packaging is vital to promoting your brand and attracting maximum customers. Packaging and creative cardboard engineering needs to be cost efficient as well as able to safely transport products, with accurate labeling for modern logistics and with enticing branding to the buyers. Design foresight of eco-friendly sources and recycling techniques, embraced with an appealing corporate image, are essential to providing modern and stylish packaging without stripping our natural resources.
Point of sale (PoS) units and display devices are crucial but not just to the retail industries of their products displayed. Internal and external signage, posters and banners combined with promotional merchandise, consistent to your corporate image, unifies an accomplished reputation and brand awareness. Using the most current digital technology available achieves outstanding results. Desirable sales incentives also support your overall marketing campaign and are acutely advantageous in encouraging sales and your profits.
INCA provides intelligent communications solutions that distinguish your brand from your rivals by promoting your expertise, building your credibility and therefore growing your profits.
Our expertise in public relations incorporates product launches, event and promotions management, profile management, media scheduling and liaison, project co-ordination, copywriting, market research and even website updates and analysis. We manage all aspects of a client's PR whatever their objective in order to devise a strategy, execute and manage a tailored campaign. We ask the right questions, research the target market and challenge the conventional to create dynamic promotions for our many diverse clients.
– Project Co-ordination
– Event & Promotions Management
– Copywriting
– Marketing Strategies & Research
– Public Relations & Media Liaison


"I was recommended Inca Design to help with my new website and I couldn't have done it without their team. Right from the word go, the help and patience was brilliant. As I am not 'IT' technically minded but they are and are getting me there! It's so reassuring to know that any query will be professionally dealt with promptly. Looking forward to the continued help and advice from the Inca Design Team."

Gill Hill
Inns of Distinction

"Always ready to help with last minute advertising deadlines, INCA Design have a great grasp on our 'style' and 'quality' since designing our branding for our multiple venues - Inns of Distinction. They have produced everything from printed loyalty cards to the integrated digital design for all of our venues' websites. No challenge is too difficult for our multi requirements. "

Martin Bullock – Owner & Director
Envisage Technology

"Envisage Technology needed a new image to relflect our distinguished reputation, expertise & industry professionalism embracing cutting edge security system technologies.  INCA's creative design cleverly depicts a camera lens & power on button which we use as our corporate identity throughout our stationery, sales literature and signage making us memorable to our clients & suppliers."

Kevin Brown, Director
Bowman Ales

"We cannot recommend Inca Design Ltd highly enough. Over the years we have used them to provide us with a top-quality service for our Logo, Website, Pump Clip images, Advertising, Signage and Social Media – in fact they are truly invaluable to us. Always on hand, helpful and willing to go that extra mile to ensure customer satisfaction." Martin Roberts  & Ray Page – Bowman Ales Ltd."

Julia Lovejoy-Brinkman
Mr. Whitehead's Cider Company Ltd.

"INCA were very professional and accommodating. From the moment of inception to the site going "live" they went above and beyond and were instrumental in finally getting a webshop up and running, which proved to be vital in Covid lockdowns. Their ongoing support is great too and we would recommend INCA to all businesses big or small as they are professional and flexible."

Laura Hilson-Pater
Scarpini Designer Shoes

"Working with INCA Design has helped me to establish & expand my brand & business. Their recommendations & creativity have enabled me to target the correct markets at the right time - thank you."

Joy Foote


"We approached Inca design not really knowing what we wanted or needed as a new business with not much direction in the marketing and design front... We had no idea what to expect.  After a couple of conversations, it's like they knew our business inside and out and they came up with our branding and website which we love!  Such a professional job and such lovely people!  Thank you so much to Inca, we could not recommend them enough."

Kevin & Sharon
Barratt Homes

"I found INCA professional, friendly and very flexible especially when it came to changes in direction in the briefs provided to them and the usual 'I need these last week' time frames given. We have been very satisfied with the end product every time."

Katherine Childs
Artisan Bars & Kitchens

"We absolutely love our Artisan Bars & Kitchens logo that the team at INCA designed. They then provided a full marketing design package for us with branding our vehicle & site signage, printed promotions & advertising PLUS creating the most amazing website which really does reflect the quality of our artisan culinary & cocktail experience!"

Phil Gilbraith – Director
The Country House Company

"Over 10 years later and your designs are still fresh, the ideas constantly flowing and you are both wonderful, professional and reliable to work with. Thank you for your terrific service and here is to the next ten years!!"

Marishelle Gibson Butler, Head of Marketing
Gandaria Investments

"We have consistently found the team at Inca to be professional, responsive to our various needs, price competitive and wonderfully creative - we are very happy to recommend their service to others."

Lucia Cheung
The White Lion Soberton

"We have been working with INCA for over a year and have found that the service they provided second to none. They took the time to listen to what we wanted and to understand our brand. Their communication with us throughout has been exceptional and they have used their own ideas, experience and creativity to help us develop our business. We are extremely pleased with the end result of our website after working with other companies previously who failed to deliver what we were looking for. INCA completely delivered what we were looking for and we would not hesitate to recommend them to other businesses."

Vicki & Allan
Stockman Shepherd Huts

"We approached Inca to design and make our new brochures to promote our Stockman Shepherd Huts. They were professional and extremely helpful with great advice and support along the way. This resulted in a fabulous brochure with brilliant clarity & we have had a lot of customer comments about how beautiful our brochures are! We will be using Inca again for all our promotional work and we highly recommend them."

Emma & Paul
Pimp My Paddock

"We have recently engaged with INCA Design to spruce up our website & advertising material,  and provide a more professional appearance. We have been simply wowed by the results! Such a professional and creative design, whilst maintaining the heart and ethos of our business. The INCA team have been great to work with and we'd strongly recommend them."

Phil Stratten, Owner
Vail Williams

"INCA Design gave us a high quality, professional service! Plus, they are a pleasure to work with, providing prompt, excellent results!"

Andy Gibbs
Rekan Limited

"Being a local company we wanted to stay local, our website had become outdated and cumbersome and needed freshening up, thankfully INCA were on hand to assist. Kris and Simon were both personable and professional throughout and more importantly, helped us through the website 'techy' jargon, translating it into our language. Both the price and timeline quoted at the beginning was the price we paid at the end and delivered on time.  We continue to use INCA Design to update our website and use them as our preferred and go-to marketing team. Thank you both."

Nick Riley, Rekan Limited.
William Hare Group

"I have worked with Kris and Inca on several campaigns. She has a great knowledge of marketing and the ability to translate your thoughts into a meaningful strategy. Not once over the last 4 years have I been let down by Kris and in fact every time she seems to exceed my expectations. I can honestly recommend Kris to anyone knowing they will have the same experience."

Andre Van Heerden - Consultant Project Director at William Hare Group
CURA Homecare

"Thank you for the excellent service you have given Cura, our website and brochures look fantastic and professional and would be happy to recommend INCA Design.  Overall an excellent service."

Dean Churcher
Bowman Ales

"INCA Design always go the that extra mile, you can rely on them to deliver exactly what you require, plus a bit extra."

Martin Roberts
Setyl CBD

"Friendly team who always presented themselves professionally, flexible and approachable. The team helped create a beautiful website with fantastic features whilst offering continued guidance and patience with our inexperience! Since our website launch, they have continued to offer first-class service in maintaining the site & responses to any queries we've had. We're looking forward to working more with Inca down the line. "

Scott & Harry - Director
West 4x4

"Business has definitely increased since our web site was designed by INCA, with lots of new customers using our contacts page! Many thanks!"

Mark West
Short Film Fund

"Using Inca was the best branding decision we made during the early stages of our Start-Up. Kris and Simon's intuitive understanding of what would be necessary in terms of Branding, Logos, web presence etc meant that we had all the relevant assets in place quickly and of such a high standard that I will always be returning to them when needing digital and graphic work. I should also mention that a very brief session discussing a patent I was working on resulted in some of the best technical graphics I've seen that were used in countless presentations. Kris is the person you want in your corner when your project is critical to you. Her experience and professionalism will make her an integral part of your team. Don't take my word for it - contact her with any branding or web issue that has been bugging you and see for yourself. "

Charles Kay - Grant Director at Short Film Fund
Inns of Distinction

"Inns of Distinction have used Inca Design for over 4 years for our design and website hosting. Simon and Kris have always taken a personal interest in our company, so from day one of our relationship, Inca have instinctively understood our ethos and style and have handled or varied needs effortlessly. From fully redesigning our websites, designing numerous banners, events tickets and on table advertising solutions, to designing vehicle wraps, every item is curated with thought, flair and precision. The responsiveness of their service is superb with tight deadlines being consistently meet without fuss or delay. We hope to continue our relationship for many more fruitful years and would heartily recommend Inca to anyone looking for design solutions."

Phil Gilbraith
Scorpion Buildings

"INCA Design have provided us with a comprehensive marketing package including branding, website design and implementation, exhibition stand design, merchandising, and advertising, through to sales literature, newsletters, stationery and signage for our offices.  For our operations they have provided site-based signage and vehicle livery along with branded corporate clothing & hi-vis safety garments. The team at INCA are very efficient & professional for every challenge. Highly recommended."

Oliver Good, Director